Home Builders Association of Raleigh-Wake County
The Mission of the HBA of Raleigh-Wake County
Advocate, educate and promote the building industry
​
​​The Home Builders Association of Raleigh-Wake County (HBA) represents and promotes the interests of the residential building industry on issues that affect their ability to provide housing that is affordable for all citizens of Wake County. The association serves as the voice of the residential construction industry at the local, state and national levels.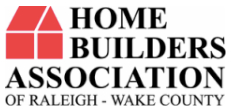 Address:
5580 Centerview Drive, Ste. 115 | Raleigh, NC 27606
About the HBA of Raleigh-Wake County
The members of the HBA are new home builders, remodelers, developers, suppliers and sales and marketing professionals. As the largest single county HBA in the country and the overall second largest HBA in the country, the association provides members with a wide range of resources and information on issues involving the home building industry such as land use, economic and legal matters. Additionally, the HBA provides opportunities for business development, education, professional growth and networking.
HBA members not only share a common interest, but they also create new friendships with their peers. These relationships allow members to learn from each other, participate in community service projects, have opportunities to receive awards and recognition, and grow professionally within the industry.