Northeast Florida Association on Realtors
The Northeast Florida Association of Realtors (NEFAR) is headquartered at The Resource Center in Jacksonville, Florida and has four additional Service Centers in Orange Park, Jacksonville Beach, Palatka and World Golf Village. NEFAR is the largest professional / trade association in northeast Florida, with a membership that includes more than 8,000 Realtors and business partner members in Duval, Clay, Putnam and St. Johns counties. NEFAR boasts it own multiple listing service, a wholly owned subsidiary called the Northeast Florida Multiple Listing Service (NEFMLS).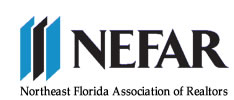 Contact Us!
(904) 394-9494

Address:
7801 Deercreek Club Rd.,Jacksonville, FL 32256
NEFAR is a Realtor education powerhouse in Florida, offering members a mammoth education roster from which to choose, including in-class and online education. There are classes for continuing education credit, technology, required post-licensing credit, non-credited seminars and specialty designation courses. The NEFMLS also provides a variety of training options.