The San Antonio Board of REALTORS® (SABOR)
The San Antonio Board of REALTORS® (SABOR) was organized in 1910, by twenty-two members of the city's real estate community who felt San Antonio would benefit from a collective membership of REALTORS®.

Accredited by the Texas Real Estate Commission in 1979, The San Antonio Board of REALTORS® Real Estate School is committed to providing a quality real estate education for both emerging and established professionals. Our class schedules and courses are designed to cater to a wide array of needs and interests.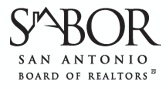 Faith Palacios
Education Services Administrator
210-593-1200 x 124

Address:
9110 W IH-10 San Antonio, Texas 78230-3112
SABOR is your primary resource when it comes to finding a REALTOR® and buying and selling in the San Antonio area. REALTORS® are pledged to a strict Code of Ethics and Standards of Practice. They can help you determine your buying power and have access to many resources to assist you in the buying and selling process. Most people only buy and sell a few times in their lives, but REALTORS® close numerous transactions a year and therefore have unmatched expertise and insight.